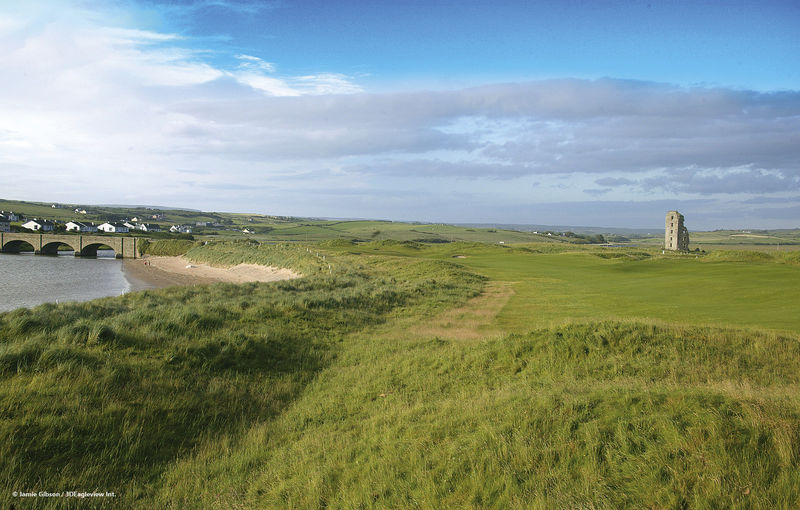 Description
18 holes - 6,882 yards - SSS 74
Lahinch Golf Club is one of the most respected links courses in the world. With its towering sand dunes, undulating fairways, rolling greens and fair share of blind shots, it is a true links in the traditional meaning of the word. For purists of the links game, playing Lahinch is certainly an experience to treasure and should rank high on your list of courses to experience.
A vast wilderness of dune land two miles from the spectacular Cliffs of Moher provides the perfect terrain for a golf links, that is Lahinch Golf Club, founded 1892, and it must be the most enchanting place in which to play golf. Lahinch is undoubtedly one of the world's classic links. It has all the ingredients of greatness: a glorious setting, a rich history, superb natural terrain and, where man has 'intervened', it has been through the hand of an outstanding architect.
It also has a pair of notorious blind holes, a ruined castle and goats that roam freely on the dunes. Lahinch is actually two courses. The Old Course, lying between the road and the sea, is one of the superior sites in all of golf. Often referred to as the St Andrews of Ireland, the Old Course has an abundance of exceptional golf holes where the natural terrain is used to optimum advantage.
The Castle Course is a flatter links named after the ruins of a nearby castle tower that stands to the northern end of the property. Lahinch possesses two of the most famous holes in Irish golf, the 5th hole par 5 Klondyke and the 6th hole par 3 Dell.
The Klondyke demands a drive into a scenic valley from where one plays a completely blind second shot over a monstrous dune to a gently rolling green some 200 yards further on. Dell on the other hand is one of the most photographed and controversial short holes in golf. The green on this par 3 is nestled between two steep dunes and is completely blind from the tee.
Enquire Now
To find out more
Recommended Accommodation